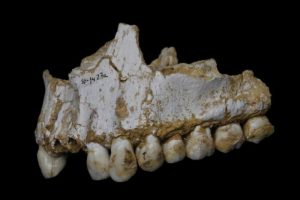 Speaking as we are on various types of humans in the evolutionary kaleidoscope here is a new Nature article on the latest research on Neanderthals — as read on ABC's Science News:
Ancient dental plaque shows some Neanderthals ate plants and used drugs
Mushrooms were part of their diet, and meat eating (e.g. eating woolly rhinoceros) followed vegetarianism, just like pre-Flood vegetarianism of the human race and post-Flood meat-eating (kidding — about the biblical Flood myth).
But I'm amazed at what we can learn …..
What's more, DNA analysis of the dental plaque from the El Sidrón Neanderthal teenager showed he ate plants to treat illness.

The teenager, who had a dental abscess on his jaw and evidence of microbes that cause gastro intestinal illnesses such as diarrhoea and vomiting, ate poplar bark, which contains the active ingredient in aspirin, and Penicillium, the mould that produces penicillin.

"So it is likely he would have been trying to self-medicate," said Dr Weyrich.
And in the midst of reading about how our technologies are being used to record our personal information and accessed for spying, it seems even geneticists can snoop on the private activities of long extinct Neanderthals:
Swapping spit with humans

Neanderthals and ancient and modern humans also shared a number of microbes that can cause dental and gum diseases — although Neanderthals did not have cavities or gum disease.

The team sequenced the draft genome of one gum disease microbe, Methanovrevibacter oralis, from the 48,000 year-old El Sidrón cave teenager.

"What we find is that it looks like [the microbe] was introduced from humans about 120,000 years ago, about the same time that humans and Neanderthals started interbreeding," Dr Weyrich said.

She said this indicated interactions between Neanderthals and humans were much more intimate than previously thought.