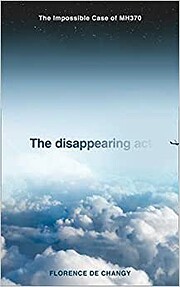 Recall my post from a week ago, MH370 – still waiting. There I quoted the President of Emirates Airline (the company with the world's largest fleet of Boeing 777s), Sir Tim Clark, expressing his frustration over the lack of transparency in the supposed references to the data related to the missing aircraft and unanswered questions put to the official "explanation". Florence de Changy, author of The Disappearing Act: The Impossible Case of MH370, attempted to interview Tim Clark for that book. Here is her account of those attempts:
Another important voice that had gone oddly quiet was that of the highly respected Sir Tim Clark, the President of Emirates Airline. Emirates runs the largest fleet of Boeing 777s in the world, and its chief was clearly not impressed with the 'disappearance' narrative. He had initially declared that 'he would not be silenced' on the matter. 'We seem to have allowed MH370 to go into this black hole of "it could be one of aviation's great mysteries". It can't be left like that, never. I'm totally dissatisfied with what has been coming out of all of this. I will continue to ask the questions and will make a nuisance of myself, when others would like to bury it. We have an obligation not to brush this under the carpet,' he added.
I submitted three requests to meet Clark to follow up on his vigorous initial statements. I even offered to travel to Dubai, or to meet him wherever he might be in order to overcome any logistical issues. But in December 2015, a major codeshare deal was agreed between Emirates and MAS, and his communications adviser let it be known that Clark 'had nothing to add to what he previously said on that matter'. Yet, Clark has never said that he was now satisfied with this or that explanation, and he seemed so sincere right at the start of the whole affair. For a long time I pondered whether he had been somehow convinced that it was in the best general interest that the truth not be revealed, or whether he had even been forcefully silenced. According to an Australian diplomatic source in the Middle East, it was actually the ATSB, using – or rather, abusing – its leverage as regulator for one of Emirates' major destinations, who asked him to stop commenting about MH370. Apparently, Clark had no choice other than to comply, but he was so put out that he insisted on registering his annoyance with the Australian ambassador in Abu Dhabi.

(Disappearing Act, pp 337 f)
And a review of Changy's book, one that I concur with at every point, by Shalini Ganendra at MalayMail.com.
---
Changy, Florence de. The Disappearing Act: The Impossible Case of MH370. UK: HarperCollins, 2021.
---