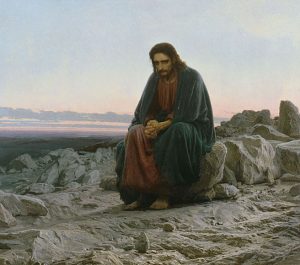 Anyone wishing to harmonize the gospel of John with the Synoptics will have a great deal of trouble explaining the beginnings of Jesus' career. In the Fourth Gospel, on his way back to Galilee, Jesus has already poached many of John the Baptist's followers. In fact, he has started up his own dunking franchise, luring away John's customers. However, in the Synoptics, after Jesus' baptism, the spirit drives him into the wilderness, where he sits in solitude. He hasn't even met any of the Twelve yet.
Different "traditions"?
Such differences might compel us to posit that the two origin stories have so little in common that they must emerge from wholly unrelated traditions. And yet if we look just a bit harder, we see some common threads, at least on a symbolic level.
In my brief series on How John Used Mark, I discussed how John apparently took ideas from the Gospel of Mark and turned them inside out. But in the case of John inverting the temptation stories, the source must be either Matthew or Luke, since Mark has only this to say:
12 And the Spirit immediately drove him out into the wilderness. 13 He was in the wilderness forty days, tempted by Satan; and he was with the wild beasts; and the angels waited on him. (Mark 1:12-13, NRSV)
For details concerning those temptations, we must turn to the other two gospels. Oddly, Matthew and Luke list the second and the third in different order, but the first temptation remains the same. (All of the following verses come from the NASB.) Continue reading "How John Used the Synoptics: The First Temptation vs. The First Sign"