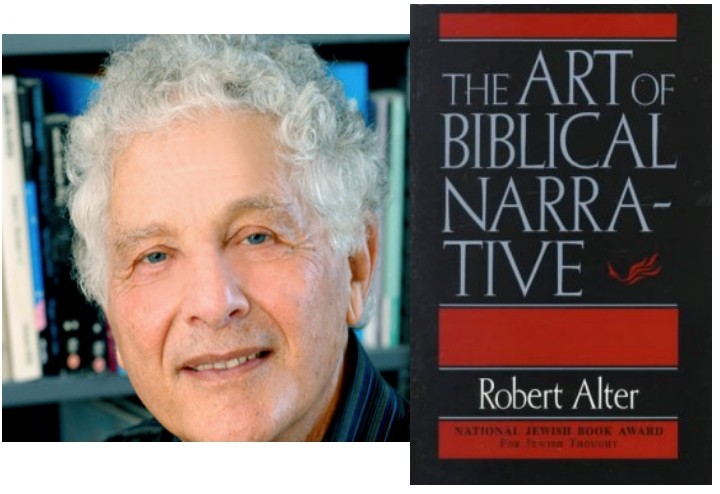 Robert Alter opens his book, The Art of Biblical Narrative (winner of the National Jewish Book Award for Jewish Thought), with a fascinating analysis of a small vignette that for most of us appears to interrupt the larger story of Joseph.
He takes the Hebrew texts of the Jewish bible and subjects them to the kind of critical analysis one might apply to Shakespeare or Proust. He tries to show, on the whole with success, that the astonishing literary effects often achieved by the Authors of the Bible are the results of art and not of artlessness. — J. M. Cameron, New York Review of Books, cover blurb.
So here we are, reading the book of Genesis and enjoying its familiar series of tales, and nearing the climactic final chapters we come to the story of Joseph. Joseph the young lad is given his famous coat of many colours; he's then sold by his jealous brothers into slavery. But then just as we want to know what happens next we are diverted by a seedy chapter that has given us the word "onanism". The chapter goes on to relate the patriarch Judah's misdeeds, his daughter-in-law acting as a prostitute and the birth of his grandchildren. We then return to the Joseph drama with Joseph being taken to Egypt as a slave where he is purchased by Potiphar.
Why did the Genesis author break the Joseph story like that? (Or for those who are more discriminating with their sources, Why did the author of the J document break up the Joseph story like this?)
Robert Alter begins with the few verses preceding the Onan and Judah story. I have used much of Alter's translation because he maintains the Hebrew word order and meanings that are significant for his argument.
Joseph's brothers sold him into slavery then stained his tunic in goat's blood to deceive their father.
32 They had the ornamented tunic, and they bring it to their father, and say, `This have we found; recognize, we pray thee, whether it [is] thy son's coat or not?'

33 And he recognized it, and saith, `My son's tunic!

an evil beast hath devoured him;
torn — torn is Joseph!'

34 And Jacob rendeth his raiment, and putteth sackcloth on his loins, and becometh a mourner for his son many days,

35 and all his sons and all his daughters rise to comfort him, and he refuseth to comfort himself, and saith, `For — I go down unto my son, to Sheol, mourning,'

and his father weepeth for him 36 and the Medanites sold him

unto Egypt, to Potiphar, a courtier of Pharaoh, his chief steward . . .
The phrases highlighted in bold are the focus of Alter's argument. Continue reading "The Literary Artistry of Genesis"