Continuing here with Couchoud's views of second-century gospel origins. Earlier posts, including explanations for the reasons etc for these posts, are archived here.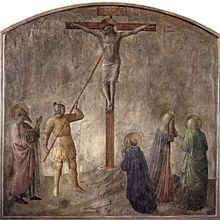 C's story of John's gospel begins with a setting in Ephesus, two generations after the feverish hopes for the coming of the Lord that produced the Book of Revelation. The church at Ephesus "preserved the tradition of the pillar apostle who had seen the Lord, for in this lay its claim to fame and to authority." (p. 223) Apocalyptic enthusiasm had dwindled away and been replaced by a mysticism that experienced Christ as having come in the "here and now" in spirit and in their own flesh. Paul's teachings about a mystical union with Christ also primary, according to the evidence of "Ignatius" in his letter to the Ephesians, so much so that Paul's concept of baptism as symbolic of death and burial had been superseded by the idea of baptism as a principle of a new life in Christ, with eternal life being granted at the moment of emerging from the real "water of life".
These Christians were "born again" here and now and forever. They lived here and now in Light and Life. They could see and touch here and now the miracles of that divine life in full joy and love. The love was, however, a cultic love for their own brethren and worshiped spirits and not for the world. The prophets were revered, but also tested to see that they were not false and that they carried the same teaching of Christ having come now in the flesh.
They rejected the Marcionites and original teaching of Paul that Jesus had come only in the form of a man. Christ's body was mystically both heavenly and human flesh and blood. Being heavenly Jesus was not, as Matthew said, born through a woman. The logical impossibility of being both spirit and flesh at one time in one body was resolved by mystic illumination that passes rational understanding. Continue reading "The earliest gospels 5 – Gospel of John (according to P L Couchoud)"