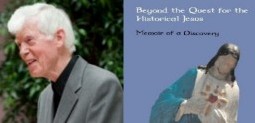 .
Chapter 11
The Dominican Biblical Institute
.
This hurts. It becomes personal.
From my outsider perspective I understand that the Dominican Biblical Institute (DBI) was founded by Thomas Brodie (though he has an oblique way of explaining this in Beyond the Quest), so when I turn now to the DBI's website to see what they have had to say about Brodie and the book, aspects of which I am addressing in this series of posts, and read the contents on the following images, it hurts, as it must hurt anyone who knows a significant loss that accompanies religious differences.
And on another DBI page we read about the change of directors:

And so we come to chapter 11 of Beyond the Quest, in which Thomas Brodie gives an overview of plans, activities, a conference and research of the DBI. Continue reading "Making of a Mythicist, Act 3, Scene 4 (The Dominican Biblical Institute, and Its Research)"