Continuing the series based on the article by Nancy Fraser. Previous posts:
–o–
There was no force in politics to oppose the eroding of working and middle class standards of living. Anti-liberal voices were excluded from respectable public debate. Hence what Fraser terms "the hegemonic gap and the struggle to fill it".


Only a matter of time
Given that neither of the two major blocs spoke for them, there was a gap in the American political universe: an empty, unoccupied zone, where anti-neoliberal, pro-working-family politics might have taken root. Given the accelerating pace of deindustrialization, the proliferation of precarious, low-wage McJobs, the rise of predatory debt, and the consequent decline in living standards for the bottom two-thirds of Americans, it was only a matter of time before someone would proceed to occupy that empty space and fill the gap.
Hope for change 1: Obama
2007: U.S. facing one of its worst ever foreign policy disasters (Iraq War); and worst financial crisis since the Great Depression, "and a near meltdown of the economy" — An African American speaking of hope and change, vowing to "transform not just policy but the entire 'mindset' of American politics became president.
But rather than mobilize his mass support to turn away from neoliberalism he entrusted economic recovery to the same Wall Street forces that had almost wrecked it. He gave cash bailouts to the banks but nothing comparable for the tens of millions of the banks' victims who lost their homes.
The single genuine benefit he gave the working class was an expansion of Medicaid through the Affordable Care Act. But that was the exception.
All told, the overwhelming thrust of his presidency was to maintain the progressive neoliberal status quo despite its growing unpopularity.
Hope for change 2: Occupy Wall Street
2011: I got a frisson of excitement when these protests broke out. "Please let them spread!" Having given up hope that the political system was going to respond to the economic crisis without some prodding small groups throughout the U.S. seized control of public spaces "in the name of the 99%". They were protesting against a system that "pillaged the vast majority in order to enrich the top one percent". Some polls estimated that up to 60% of the American public came to sympathize with these protesters.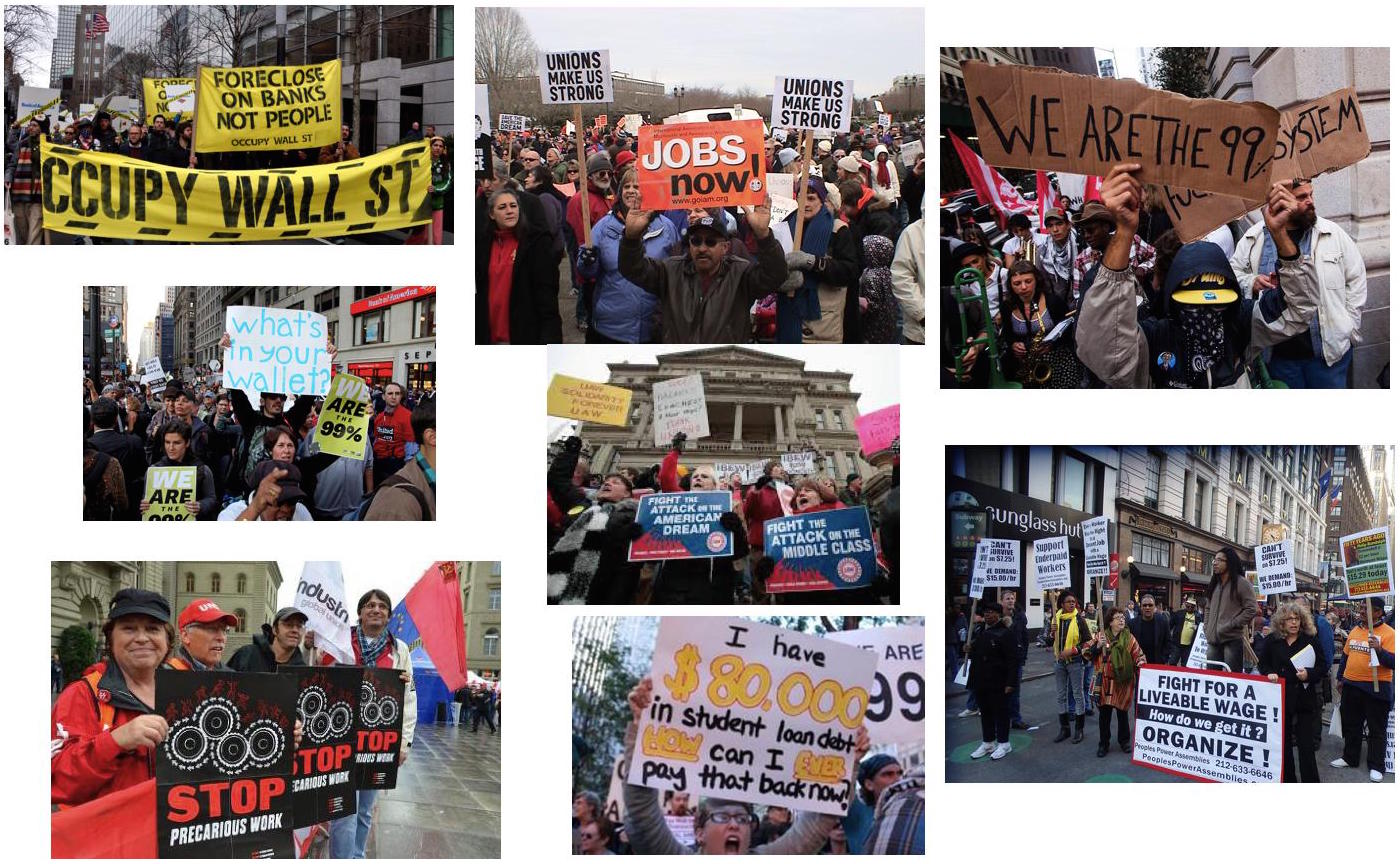 So what happened? Obama picked up on the rhetoric of the Occupy Wall Street movement, promising great change for his second term. But after winning the election of 2011 . . . .
Having won himself four more years, however, the president's newfound class consciousness swiftly evaporated. Confining the pursuit of "change" to the issuing of executive orders, he neither prosecuted the malefactors of wealth nor used the bully pulpit to rally the American people against Wall Street. Assuming the storm had passed, the U.S. political classes barely missed a beat. Continuing to uphold the neoliberal consensus, they failed to see in Occupy the first rumblings of an earthquake to come.