Properly read, the Bible is the most potent force for atheism ever conceived.
— Isaac Asimov

Properly read, the books arguing for the historicity of Jesus by Bart Ehrman and Maurice Casey present a strong case for being agnostic about the existence of Jesus.
— paraphrasing Raphael Lataster
Part One of Questioning the Historicity of Jesus addresses the case for the historical existence of Jesus. The first difficulty here is finding the best and strongest scholarly arguments for Jesus' historicity:
I have long searched for good cases for the Historical Jesus. I sought fairly recent, peer-reviewed academic books or articles, solely/primarily focussed on arguing for Jesus' historicity, written by secular scholars in relevant fields. Not one source met these criteria. I would have loved the opportunity to critique books focused on this topic written by a James Crossley or an Aaron W. Hughes, and published with Oxford University Press, but such books – perhaps like Jesus – do not exist; so I have settled for two popular books written by Bart Ehrman and Maurice Casey. (Lataster, p. 29)
Vridar Posts on Ehrman's and Casey's books:
Those books are Bart Ehrman's Did Jesus Exist? (2012) and Maurice Casey's Jesus: Evidence and Argument Or Mythicist Myths? (2014). Long time readers of Vridar will be aware of many posts covering in detail both of those works. Lataster's criticisms overlap with much that has been posted here and by others, such as Richard Carrier. Even some of the scholarly quotations I posted here alerting readers to professional disagreements with the methods of Ehrman and Casey are also found in Lataster's book. The arguments are so flawed that it hardly seems worth the trouble addressing them again, but I'll try to outline the main points Lataster focuses on.
The sad part is that Ehrman has such a high reputation for critical acumen.
I respect the man, and I respect the rest of his work. On this topic, however, his work fails to impress . . . (p. 31)

Most of us know the failings: well-poisoning, false dichotomies, speculations on the motives of unknown authors, inconsistency in relying upon hypothetical sources for his own arguments but condemning appeals to hypothetical sources for opposing arguments, insisting that hypothetical sources included information upon which his argument depends, reliance upon speculation, circular reasoning, fundamental errors of logic, selective naive readings of the sources, the possible to probable fallacy, misrepresentations of the Judaism of the Second Temple era and unjustified generalizations about religious groups. Lataster dissects each of the above failings in Did Jesus Exist? but interestingly goes further and contrasts Ehrman's failings there with his books written before and after that one:
Before and after writing that book, Ehrman was and is capable of proper critical research on the biblical texts. But for some reason, during the writing of Did Jesus Exist?, Ehrman's standards dropped remarkably, only for the 'old Ehrman' to return soon after, as if he suffered from a fugue state. I suspect that Ehrman consciously or unconsciously realised that the case for Jesus would be very poor indeed if he consistently applied his critical approach and all of his vast knowledge to this question, leading to this strange Jekyll and Hyde situation. (p. 71)
Other scholars may have stressed other "proof points" for Jesus's historicity (e.g. the "core" of a Josephan reference to Jesus) but Lataster shows how Ehrman effectively demonstrates the inadequacy of such material as clear evidence for Jesus.
It is perhaps somewhat ironic that Ehrman's critical awareness of the limitations of the sources that we do have (the gospels, Josephus, Pliny the Younger, Tacitus, Suetonius) leads him to explain why in none of those can we find secure grounds for believing Jesus to have had a historical existence, and that having dispensed with those sources he falls back on hypothetical sources behind the gospels.
Ehrman has been very bold – though mostly fair – so far. He has effectively ruled out the sources that we objective and secular scholars might place more confidence in, so that he has no choice but to 'go all in' with the evangelistic Christian sources that we would no doubt be very sceptical about. They are the only cards he has left in the game. In any case, Ehrman has started his investigation brilliantly and critically. This has been worthy of the opening chapters of a book that denied or doubted Jesus' existence. Would that he had stopped there.
Unfortunately, Ehrman moves on to critique the Christian sources. This is where it all goes wrong, in the sense that Ehrman mysteriously loses his ability to think logically and critically, though he still finds time to pummel the Gospels, which he gleefully does whenever he isn't dogmatically asserting that Jesus must have existed. (p. 38)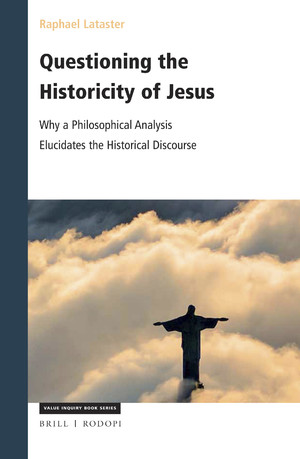 This is where Lataster's strongest, at times even savage, criticism is targeted. Lataster elaborates on the fallacies and the idiosyncrasy of Ehrman's appeal to such sources. The point is not that it is wrong for scholars to hypothesize the existence of lost sources behind the gospels in order to resolve textual anomalies; rather, the point is that Ehrman goes on to second-guess the motives of the authors of such sources, the reliability of their contents and, in turn, their hypothetical sources, and even to assert that they "must have" contained the evidence that he needs to make his case.
It is perfectly reasonable to posit sources like Q to hypothesise solutions to certain literary-critical issues, but it is another matter entirely for a historian to create a multitude of merely hypothetical sources, and to simply assume that these all but confirm their views. (p. 54. Bolding in all quotes is my own)
And,
[E]ven if we grant that these sources actually existed, it is the reliability of these highly questionable sources that still needs to be established. (pp. 42 f)
And once more,
It is as if Ehrman is not even aware that feebly positing these foundational sources is not enough. He must convince us that we should trust them, especially when they are – like the "scant literary remains that survive" – filled with obvious fictions and implausible claims. (p. 81)

For the benefit of readers not familiar with the arguments, Ehrman embraces the hypothesis that narrative material that is unique to the Gospel of Matthew and unique to the Gospel of Luke must be derived from other sources named M and L. And it is further assumed that these hypothetical sources were independent of each other. And that they derived from oral traditions that went back to the historical Jesus himself. The simpler explanation, that the authors of those gospels created the material themselves, is not considered. This appears to be particularly problematic given that we can often see how the evangelists responsible for those gospels reinterpreted and rewrote certain other stories that we find in the canonical and non-canonical Jewish literature available to them.
As this appeal to, combined with the uncritical use of, imaginary sources is obviously so rare in scholarship, it does not even have a label; so please allow me. For brevity's sake, I shall dub this monstrosity of method, Ehrman's law. The law states that if your preferred theory is not well aligned to the available evidence, you may simply invent as much evidence as is required, and you may further proclaim the unquestionable reliability of your imagined sources. The law also requires you to make grand claims about how this new evidence supports your – and only your – theories and to mercilessly ridicule others who try to do likewise. Given that even contemporary sources by known authors who do intend to write history are scrutinised, specialist scholars' appeal to Ehrman's law is downright preposterous. Unfortunately, Christian scholars like Richard Burridge and James Dunn are all too happy to agree with Ehrman's disturbing 'method' in appealing to imaginary sources. Noted Christian apologist William Lane Craig also enthusiastically appeals to them, in his case for Jesus' resurrection . . . . (p. 64)
No other field of historical inquiry that I know of resorts to such methods and Lataster is right to explore the extent of its fallaciousness and the double-standards with which it is applied.
Nonetheless, I half suspect that Lataster goes a step too far in his efforts to highlight the unscholarly nature of "Ehrman's law". Example,
In other words, it is possible that the very earliest sources, which no longer exist, confirm that Jesus did not exist as a human on Earth – we could label such a source as Ephemeris de Paulus [=Journal of Paul]. According to this source, which pre-dates Paul's extant writings, Paul is ignorant about a Historical Jesus and is experiencing visions of the celestial Son of Man that he, as an apocalypticist Jew, already believes in. In this hypothetical source, the links to the intertestamental literature are even more obvious, and there are hints that Paul is suffering from mental illness. I just made this source up, of course, but that is the point.87 That Ehrman somehow 'knows' that made up sources support his views is bewildering. This seems more like the musings of a fundamentalist believer rather than a properly critical scholar. (p. 53)
I am not so sure that the analogy is exact. Ehrman does not simply declare without any attempt at a justification that another source existed. He points to data in the gospels and rationalizes its existence by appealing to a hypothetical source. Is it not overstating the problem to compare it to just imagining another source behind, say, Paul's letters, without any attempt at some sort of justification in the Pauline corpus, however slight? Lataster makes the necessary point without such exaggeration. Exaggerations that point to a slight misrepresentation of the biblical studies methods open one up to avoidable attack from the less amiable debators.
Lataster addresses Ehrman's equally fallacious and inconsistent use of Paul as evidence for the historical Jesus. Paul is to be trusted when a naive reading supports Ehrman's view but dismissed as a liar or exaggerator when he does not. What Jews of the time believed, how they interpreted and reinterpreted their scriptures, and how Ehrman's misinformed and often blatantly false claims about some of these issues (Lataster demonstrates these failings with many appeals to other better informed scholars), and his contradictory arguments, are all scrupulously examined.
Part 2 of Did Jesus Exist? reveals something very disturbing, that I must stress again. In apparently debunking various mythicists' claims, he makes it clear that mythicists attempt to explain Paul's portrayal of Jesus through sources that actually exist. Ehrman's approach is, as we have so decisively seen, to push the basic Gospel portrayal of Jesus (less the bits he doesn't like) through sources that don't exist, rather than to ascribe it all to actually existing sources and the creativity of the authors (both of which he actually admits, though not in whole). And yet, the prevailing scholarly view is that it is the mythicist that grasps at straws. (p. 96)
The third and final chapter in this first part of the book takes on Maurice Casey's attempt to prove the historical existence of Jesus. My own recollection is that Casey's book was about to be published but when Erhman's book beat him to it his publisher (Sheffield) held it back for a year. My own recollection is that my exchanges with Casey's student, Stephanie Fisher, so incensed him that (as Fisher informed me at the time) he was going to write a book "exposing" me and all others with similar views. Much of the book actually reads like a petty tirade from Fisher herself, with Mary described as "preggers" and Thomas L. Thompson sarcastically said to be a "scholar" with quotes, and expressions like "slagging off" and so forth. I was mystified that any publisher, especially Sheffield, actually had it printed. I don't think it worthwhile to cover the generally nonsense-contents throughout the book. As Lataster notes,
. . . . unnecessary and libellous errors are continued throughout the book . . . .

It is petty and pathetic . . . and also manages to degrade historical Jesus scholarship to new levels of incompetence and obscenity . . .

With constant mischaracterisations, ad hominem argumentation, homophobic and unprofessional language, and easily avoidable errors, questions must surely be raised as to the confidence Casey had in his case for Jesus' historicity. We should surely have expected a simple and straightforward explanation of the evidence and how wonderful it is. I suspect that it is the fact that the latter is not realisable which partially explains the unnecessary embellishments. (pp. 100, 124)
Yet certain scholars still appeal to Casey as a standard from which to "debunk mythicists".
The chapter concludes with comments on John Dominic Crossan's principal arguments for a historical Jesus. Crossan's stated main reason for believing in the historicity of Jesus is that Jesus could not have been invented because Christians were "too uncomfortable" with him as he was and had to continually change him to be more the person they wanted. As a scholar of religion Lataster knows full well that such changes are par for the course in the world of religion.
So the first part of the book was a depressing read insofar as it covered ground all too familiar to me, drawing attention in forceful ways to the bankruptcy of so much of what passes for "historical method" among too many biblical scholars, especially when it comes to their attempts to defend their most fundamental assumptions.
We now come to Part 2, "The Case for Agnosticism".
---
Lataster, Raphael. 2019. Questioning the Historicity of Jesus: Why a Philosophical Analysis Elucidates the Historical Discourse. Leiden: Brill.
---
The following two tabs change content below.
Neil Godfrey
Neil is the author of this post. To read more about Neil, see our
About page.
Latest posts by Neil Godfrey (see all)
---
If you enjoyed this post, please consider donating to Vridar. Thanks!
---