Hardly a day goes by without somebody on social media sternly reminding me that we desperately need nuclear power in order to fight climate change. I'm always tempted to respond that I agree, but only if they happen to have a time machine — because, if you really wanted to fight climate change and stop runaway global warming with nukes you should have started building 20 years ago. We're too late.
Of course, I don't actually bother responding, since one cannot dissuade a true believer. And one can only stomach so many lectures about the incredible safety record of nuclear power. The safety argument comes to the fore, because so many people think atomic energy isn't safe. They're wrong, but the underlying argument is only so much theater.
Large numbers of people would like to stop fracking, and they have plenty of good reasons for it. Fracking causes earthquakes and contaminates groundwater. It wastes huge amounts of fresh water. Its continued use makes petroleum less expensive, which encourages the use of carbon-generating gasoline and diesel fuel.
It's dangerous. Yet, despite all of the protests and no matter how many videos we see with people setting their tap water on fire, fracking continues.
The same goes for coal-fired power plants. Ditto for pipelines. Nobody wants coal burning in their backyards. So, naturally, we build them in poor areas. We run the pipelines through Native American burial grounds so as not to disturb nice, clean white people in the suburbs.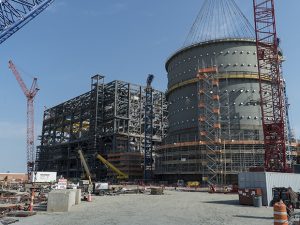 The myth that nuclear power's decline in the US came about because of the fears of an irrational public continues to persist. However, if the "bewildered herd" had any real influence, fracking would certainly cease. And truth be told, the only reason coal is finally dying has everything to do with economics.
Two recent news stories will serve to demonstrate what's really going on. First, I would direct your attention to these news items: "U.S. Nuclear Comeback Stalls as Two Reactors Are Abandoned" (NYT) and "A Dissenter's Tale of South Carolina's Nuclear Project Fiasco" (ENR). The short story is that the South Carolina nuclear project at Jenkinsville failed to make it to the halfway point of construction. This failure drove Westinghouse into bankruptcy. And finally, consumers had to pay for most of it, since in our country, profits are private and losses are public.
Here is the key point:
Because they do not generate carbon dioxide emissions, nuclear plants are often seen as a useful tool in battling climate change. Yet in the United States, few utilities today are willing to incur the risk that comes with building massive new reactors, preferring to stick with cheaper natural gas plants and smaller wind and solar farms. (NYT, 2017-07-31)
Nuclear projects are enormous and expensive. As a result, they require public and private investment. Private firms would prefer to avoid the risk of catastrophic failure on massive projects that take many years to complete.
Nuclear projects need huge amounts of resources, including the brainpower to manage, control, build, and maintain some of the most complex technology humankind has ever created. The AP1000 reactor is one of the most ingenious hunks of engineering ever built, and its safety is unsurpassed. But, like so many things in the nuclear industry, their construction costs continue to rise. Delays are the norm, making it nearly impossible to tell how much they will finally cost and when they will come online. That's why China appears to have given up on them.
When you cannot calculate true final costs or accurately predict the schedule of construction, then, logically, you can't get a real handle on the amount of risk involved. This is the real reason nuclear power can't seem to get traction here. Safety comes at a price.
The second story comes from my home state of Ohio, where dirty money helped bail out "clean power." See "Ohio Nuclear Energy Company Gets $1.1 Billion Bailout." Simply put, the Ohio legislature had no interest in propping up a failing industry. So the industry went out an bought a new one [i.e., a new legislature]. It was a good investment. For a measly $30 million, they received $1.1 billion in return.
This is what the propaganda blitz is all about. Instead of viewing nuclear power as a hugely expensive burden, a technology whose time has come and gone, we're supposed to reclassify it as "green technology" that will help us fight climate change. That's a farce. And the industry knows it.
We will not see an uptick in new plant construction. Nobody wants to foot the bill. And besides, climate change is here now. We can't wait for them to be built, and we can't risk another project failure.
As the costs of running old atomic plants continue to rise, the industry will continue to use their lobbying clout to force the public to pay for it. And when the plants reach their natural end of life, the industry will lobby for those lives to be extended, or they will force the public to pay all decommissioning costs.
Can we stop any of this? Probably not. Money talks, and the nuclear industry has a lot to say. And sadly, many of my friends who consider themselves science nerds and climate warriors have bought into their "green power" fairy tales.
The following two tabs change content below.
Tim Widowfield
Tim is a retired vagabond who lives with his wife and multiple cats in a 20-year-old motor home. To read more about Tim, see our
About page.
Latest posts by Tim Widowfield (see all)
---
If you enjoyed this post, please consider donating to Vridar. Thanks!
---