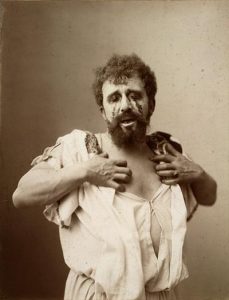 In one of the more memorable scenes in Greek drama, Oedipus reacts to the sudden revelation of his actions by moving off-stage and blinding himself. Critics over the centuries have pointed out the tragic meaning of his inner blindness before, contrasted with his outer blindness afterward. But while Oedipus's blinding occurs out of sight, a messenger describes the gruesome details.
Jocasta has committed suicide. Oedipus has at long last fully understood the awful truth:
Bellowing terribly and led by some
invisible guide he rushed on the two doors, —
wrenching the hollow bolts out of their sockets,
he charged inside. There, there, we saw his wife
hanging, the twisted rope around her neck.
When he saw her, he cried out fearfully
and cut the dangling noose. Then as she lay,
poor woman, on the ground, what happened after.
was terrible to see. He tore the brooches—
the gold chased brooches fastening her robe—
away from her and lifting them up high
dashed them on his own eyeballs, shrieking out
such things as: they will never see the crime
I have committed or had done upon me!
Dark eyes, now in the days to come look on
forbidden faces, do not recognize those
whom you long for—with such imprecations
he struck his eyes again and yet again
with the brooches. And the bleeding eyeballs gushed
and stained his beard—no sluggish oozing drops
but a black rain and bloody hail poured down.
So it has broken—and not on one head
but troubles mixed for husband and for wife.

(Oedipus the King, Sophocles Translated by David Grene)
Some dispute surrounds the etymology of the word "obscene," although many insist that it comes from the Greek ob-skene — referring to actions such as explicit sex and violence that must occur off-stage. But while the death of Jocasta and the blinding of her son-husband may be obscene to look at, the Greeks apparently did not find them too obscene to describe.
Oddly, however, the death of Jesus in the canonical gospels occurs "on-stage" and "on-camera," while his resurrection does not occur within the narrative, nor is it described in a flashback. In Mark, generally believed to be the first narrative gospel, Jesus is crucified, and the people pass by, mocking and deriding him. And when he dies, it happens in full view of Jewish and Gentile witnesses. Continue reading "Why Does the Resurrection Happen Off-Stage in the Gospels?"