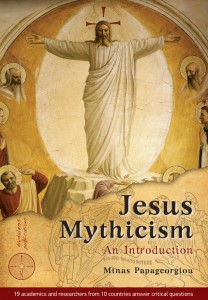 Minas Papageorgiou, freelance journalist,  managing director of a Greek publishing group and a founding member of the Hellenic Society of Metaphysics (metafysiko.gr), has made his Greek language survey of a wide range of contemporary Jesus mythicist views available in English as an ebook on Amazon. And it's not exorbitantly priced, either.
Jesus Mythicism: An Introduction was originally written for readers in the religiously conservative nation of Greece where the very existence of the mythicist debate has scarcely registered, both historically and today. The book is an attempt to introduce Greeks to a wide range of Jesus mythicist ideas currently being published and discussed in the English speaking world and now that it is available in English it is also an interesting introduction for English speakers.  
Before the main interviews Papageorgiou covers some of the more general or foundational arguments of mythicists such as those addressing the earliest references to Christianity in the non-Christian sources. He segues from this discussion into details of René Salm's arguments about the archaeological evidence for the inhabitation of Nazareth in the early first century, Raglan's list of "hero archetypes" found among mythological figures, and material such as supposed ancient correspondence about Jesus that has been long understood to be forgeries. Some of this was new to me.
The first interview is with Gerd Lüdemann, the scholar who suffered professionally for publishing a work calling into question the authenticity of many of the sayings of Jesus. Lüdermann also expresses his views on the Christ Myth hypothesis, too. (Hint: I've updated the Who's Who list of mythicists and mythicist agnostics/sympathizers.)
While I have been interested in a few Jesus myth arguments (in particular Brodie's, Carrier's, Doherty's) and have known something of a tiny handful of others (e.g. Atwill's, Murdock's), there are others I knew about only vaguely or not at all.
Minas Papageorgiou from the start seeks to reassure readers that mythicism is not opposed to spirituality or faith but that it even has the potential to "enhance the essential messages of faith" by separating myth from historical truth. He points out that the first "Jesus mythicists" appeared with the emergence of the Enlightenment in the eighteenth century but that this intellectual movement largely bypassed Greece. Only two groups, he writes, have anything to fear from mythicism: members of organized clergy and some of the academic guild who have made their reputations and livings through supporting the traditional Christian narrative.
This publication is not a critical evaluation of the various mythicist ideas but leaves the reader to judge and follow up what he or she personally prefers. The result is that some readers with a more serious scholarly interest may be dismayed to see the views of Carrier and Atwill given much the same billing. Carrier has criticized Atwill's approach as decidedly unscholarly and fallacious and the two are scarcely comparable in terms of intellectual rigour. However, it is good to see Papageorgiou has given his interview with Richard Carrier priority.
In his introduction to Richard Carrier he writes:
[Carrier] does not hesitate to criticize and contradict other mythicists since his primary aim is to keep the research standards high.
He quotes Carrier himself saying:
There are too many different mythicist theories and too many arguments for them of varying quality to answer this question productively. Most mythicist theories are simply untenable, and most arguments for even the tenable theories are bad arguments (logically or factually), or too weak to grant any merit.

The only defensible Jesus myth theory is what I call the Doherty thesis (because it was articulated either first, or most persuasively and coherently, by Earl Doherty). But Doherty deployed a lot of weak or bad arguments for it, alongside strong and sound ones. If we strip away everything that is logically weak or inconclusive, or that we can't reliably prove, what we have left are some good arguments, which can be moulded into a persuasive case.

The principal pillars of that case are

(1) that in his authentic letters Paul does not appear to know anything about an historical Jesus, but only a celestial Jesus who only communicates with his apostles through revelation and scripture;

(2) that the Gospels are wholly and manifestly mythical and nothing reliable can be extracted from them;

(3) that all other claims about an historical Jesus either just draw on those Gospels or are obvious fictions (e.g. the Infancy Tales about Jesus, or his Letter to King Abgar); and

(4) that every core element of the alternative, the Doherty thesis for the development of a mythic Jesus, has ample support in background evidence and explains the evidence we have better than any theory of historicity does.

In short, it just makes more sense. But one must experience a paradigm shift in the way one looks at the evidence to finally understand this.
I was very surprised to see the interview with me appearing next. That's a nice compliment to some of my efforts on this blog to try to keep the arguments on both sides honest and understood despite less then honest efforts by both bigoted scholars attempting to misrepresent and/or shut down debate and polemical mythicists themselves. (I also have an opportunity to give a little biographical background that will stand as a counter to some of the lies Maurice Casey published in his malicious tract against persons to whom he had taken a personal dislike in Jesus: Evidence and Argument or Mythicist Myths?)
Raphael Lataster and Robert Price are also interviewed, of course. I learned interesting details about their backgrounds and attitudes to the Christianity and the debate that I had not known before.
It was especially gratifying to read Earl Doherty's section since he is asked to sum up his main argument in a few paragraphs. Anyone who has not yet read either The Jesus Puzzle or Jesus: Neither God Nor Man, will find this a most useful synopsis.
If you have wondered what other ideas are out there, or what are the views on "the other side of the fence", then you will read explanations from the authors themselves of the main arguments behind views that Christianity was a spinoff from Caesar worship (Carotta), or even created by Roman emperors (Atwill), or originated in fact with Judas the Galilean (Unterbrink), the astrotheological/astromythological views of Acharya S/Murdock,  or a view that Jesus of the gospels was based on Paul (Einhorn).
So what to make of the less than rigorous arguments of some of these names? As I continued to read I came to sense that it is important for those who are skilled and believe in the academic approach to take up the challenge of seriously engaging with the full range of views that evidently have some appeal to the wider public. Unfortunately I suspect most academics (not all) who currently bother to say anything at all about mythicism will continue to scoff, ridicule and insult and flatly refuse to engage with popular views or sincerely searching public questions. Their relevance as public intellectuals too often has little to do with the wider public — apart from that sector broadly sharing their same faith perspective.
There are other European authors, too, that were entirely new to me. Not all of these are mythicists but they do specialize in related scholarly questions of interest to mythicists. I'm thinking in particular of Polish professor Maria Dzielska who has specialized in a study of Apollonius of Tyana.
It is worth noting that Ms Dzielska asked me in advance not to ask any questions that would compare Jesus to Apollonius, which, of course, I respected. I cannot hide, however, that I tried to tailor my questions as best as possible in order to allow the readers to draw useful conclusions on the subject under consideration here.
I found Professor Dzielska's discussion of great interest for its wealth of new (to me) information about the scholarship related to this figure who is often compared with Jesus. 
Interesting, also were a couple of the Greek names Papageorgiou interviewed. I had not known that there was a movement in Greece to attempt to restore some of her ancient cultural customs. Interviews with Harita Meenee ("Jesus versus Dionysus") and Ioannis Mpousios ("Jesus versus Adonis") relating to ancient Greek religious processions and ceremonies and modern interests in reviving them suddenly place in context Minas Papageorgiou's own biographical note that one of his interests is the "timeless struggle for the authentic Greek identity."
Another names I had not known is Payam Nabarz ("Jesus versus Mithras"). I have been long aware of the jesusneverexisted website but have known very little about the person who is behind it, Kenneth Humphreys, so it was useful to learn more about him and where he is coming from in his interview, too.
The book concludes with other questions of popular interest, such as what is known of the many relics said to be original items from the time of Jesus, the various views of what Jesus looked like (including the social and psychological factors said to be behind those reported faces of Christ that suddenly appear in burnt toast or on mildewed walls, etc.) — again through interviews of relevant experts.
I was intrigued to read an appendix giving a synopsis of Gunnar Samuelsson's thesis arguing that the evidence we have in the gospels and elsewhere gives us no reason to assume that Jesus was actually crucified on a cross-shaped crucifix. Death by any kind of suspension is apparently an arguable meaning of the terms used.
And if you're interested in films then you will find here interviews with those behind the making of some films like Zeitgeist and Caesar's Messiah. There is also a discussion of some of the popular films about Jesus that have appeared from America and Europe.
Unfortunately there are also a number of minuses to the book. The English translation does not always read well, and the typographical and even some layout errors seem to increase the further one reads. What is less fortunate is that there are also a number of factual mistakes. Hal Childs, for example, is listed as a mythicist presumably because the title of his book is "The Myth of the Historical Jesus". I have posted an article or two recently on Childs' work and have made it clear that his work is not an argument for mythicism in any sense meant here. I cringed each time (and there were many of them) when Unterbrink emphatically declared that one of the points in common between the Jesus of myth and Judas the Galilean was that both led movements protesting against the paying of taxes to Rome. (That mistake, of course, is not the fault of the author but one wonders why such an error was not picked up and queried with Unterbrink before publishing.) And while Minas was clear when expressing details some of his statements give the impression that in the English speaking world there is much more interest in mythicism in "academia", whereas in fact most of the academics he did interview and discuss belong to fields other than those of theology and biblical studies.
But taken as an overview of some of the ideas — the good, bad and ugly — relating to mythicism and as a glimpse into "who's who" behind these ideas, and as a source for a few additional resources to follow up, it is indeed a handy little volume to have.
The following two tabs change content below.
Neil Godfrey
Neil is the author of this post. To read more about Neil, see our
About page.
Latest posts by Neil Godfrey (see all)
---
If you enjoyed this post, please consider donating to Vridar. Thanks!
---