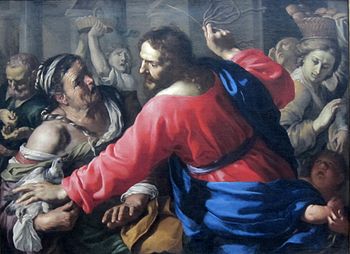 Disorderly Conduct
While researching the similarities and differences between Mark's and John's account of the Cleansing of the Temple in Jerusalem, I came across some fascinating observations by David Friedrich Strauss in The Life of Jesus Critically Examined. As you no doubt already know, the cleansing of, or what many Historical Jesus (HJ) scholars today often call a disturbance at, the Temple is an event recounted in all four gospels, which imagines a lone Jesus disrupting all business occurring in the outer courtyard.
HJ scholars who claim Jesus was some sort of apocalyptic prophet prefer to believe the event really happened, because it fits in with the eschatological message of their reconstructed Jesus. On the other hand, taking the stories at face value raises many issues. Bart Ehrman, in Jesus: Apocalyptic Prophet of the New Millennium, writes:
Most scholars recognize that some aspects of our accounts appear exaggerated, including Mark's claim that Jesus completely shut down the operation of the Temple (if no one could carry any vessels, it would have been impossible to sacrifice and butcher the animals—which was after all what the Temple was for). As we have seen, the Temple complex was immense, and there would have been armed guards present to prevent any major disturbances. Moreover, if Jesus had actually created an enormous stir in the Temple, it's nearly impossible to explain why he wasn't arrested on the spot and taken out of the way before he could stir up the crowds. For these reasons, it looks as if Mark's account represents an exaggeration of Jesus' actions. But exaggerations aside, it is almost certain that Jesus did something that caused a disturbance in the Temple — for example, overturned some tables and made at least a bit of a ruckus. (Ehrman, p. 212, emphasis mine)
So for Ehrman, the Temple "disturbance" almost certainly happened, but not the way the gospels tell it. Instead, he would argue, the gospels contain a nugget of truth inside an otherwise unbelievable story.
Meanwhile, other NT scholars don't buy into the historicity of the event. For example, in A Myth of Innocence Burton Mack called the story a "Markan fabrication." (See p. 292.) For more on the historical aspects of the cleansing, read Neil's excellent post: "Why the Temple Act of Jesus is almost certainly not historical."
Identifying the form
Before we go any further, let's recall an often forgotten rule in biblical studies: To understand what a story means, you must first determine what it is. And so I come back to Strauss's analysis of the alleged Temple event. With respect to Origen's take on the Temple tantrum, he wrote:
Continue reading "Jesus' Cleansing of the Temple: Rationalizing a Miracle"