.
In the

previous post

of the

series

I proposed that the Vision of Isaiah was the source of Simon/Paul's gospel.
This post will look at the place in the Vision that contains the major difference between the two branches of its textual tradition. Obviously, at least one of the readings is not authentic. But, as I will show, there are good reasons to think that neither reading was part of the original.
.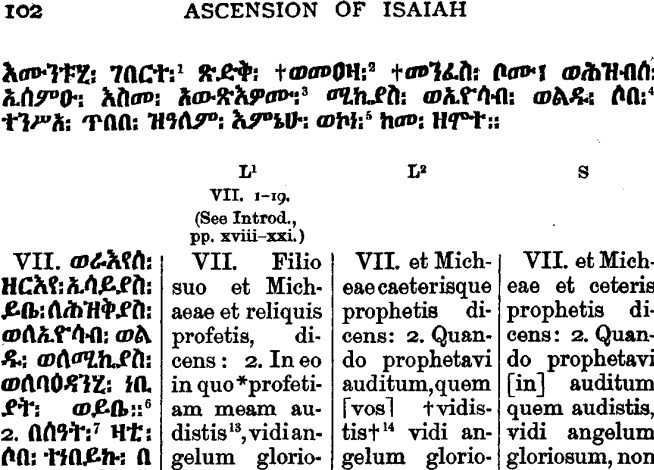 The passages in question are located in chapter 11 of the Vision. In the L2 and S versions the Lord's mission in the world is presented by a single sentence:
2… And I saw one like a son of man, and he dwelt with men in the world, and they did not recognize him.
In place of this the Ethiopic versions have 21 verses, 17 of which are devoted to a miraculous birth story:
2 And I saw a woman of the family of David the prophet whose name (was) Mary, and she (was) a virgin and was betrothed to a man whose name (was) Joseph, a carpenter, and he also (was) of the seed and family of the righteous David of Bethlehem in Judah. 3 And he came into his lot. And when she was betrothed, she was found to be pregnant, and Joseph the carpenter wished to divorce her. 4 But the angel of the Spirit appeared in this world, and after this Joseph did not divorce Mary; but he did not reveal this matter to anyone. 5 And he did not approach Mary, but kept her as a holy virgin, although she was pregnant. 6 And he did not live with her for two months.
7 And after two months of days, while Joseph was in his house, and Mary his wife, but both alone, 8 it came about, when they were alone, that Mary then looked with her eyes and saw a small infant, and she was astounded. 9 And after her astonishment had worn off, her womb was found as (it was) at first, before she had conceived. 10 And when her husband, Joseph, said to her, "What has made you astounded?" his eyes were opened, and he saw the infant and praised the Lord, because the Lord had come in his lot.
11 And a voice came to them, "Do not tell this vision to anyone." 12 But the story about the infant was spread abroad in Bethlehem.
13 Some said, "The virgin Mary has given birth before she has been married two months." 14 But many said, "She did not give birth; the midwife did not go up (to her), and we did not hear (any) cries of pain." And they were all blinded concerning him; they all knew about him, but they did not know from where he was.
15 And they took him and went to Nazareth in Galilee. 16 And I saw, O Hezekiah and Josab my son, and say to the other prophets also who are standing by, that it was hidden from all the heavens and all the princes and every god of this world. 17 And I saw (that) in Nazareth he sucked the breast like an infant, as was customary, that he might not be recognized.
18 And when he had grown up, he performed great signs and miracles in the land of Israel and (in) Jerusalem.
19 And after this the adversary envied him and roused the children of Israel, who did not know who he was, against him. And they handed him to the ruler, and crucified him, and he descended to the angel who (is) in Sheol. 20 In Jerusalem, indeed, I saw how they crucified him on a tree, 21 and likewise (how) after the third day he and remained (many) days. 22 And the angel who led me said to me, "Understand, Isaiah." And I saw when he sent out the twelve disciples and ascended.
(M. A. Knibb, "Martyrdom and Ascension of Isaiah: A New Translation and Introduction," in The Old Testament Pseudepigrapha, edited by J.H. Charlesworth, pp. 174-75.)
One Substitution or Two?
Most scholars think the L2 and S version of the Lord's earthly mission is far too brief to be original. The foreshadowing in the Vision "expects some emphasis on the Beloved assuming human form as well as some story of crucifixion" (p. 483, n. 56). But instead L2 and S give us what looks like some kind of Johannine-inspired one-line summary: "he dwelt with men in the world" (cf. Jn. 1:14). Those who think the Ethiopic reading represents the original see the L2 and S verse as a terse substitution inserted by someone who considered the original to be insufficiently orthodox.
But from the recognition that 11:2 of the L2/S branch is a sanitized substitute, it does not necessarily follow that 11:2-22 in the Ethiopic versions is authentic. That passage too is rejected by some (e.g., R. Laurence, F.C. Burkitt). And although most are inclined to accept it as original, they base that inclination on the primitive character of its birth narrative. Thus, for example, Knibb says "the primitive character of the narrative of the birth of Jesus suggests very strongly that the Eth[iopic version] has preserved the original form of the text" ("Martyrdom and Ascension of Isaiah: A New Translation and Introduction," in The Old Testament Pseudepigrapha, edited by J.H. Charlesworth, p. 150)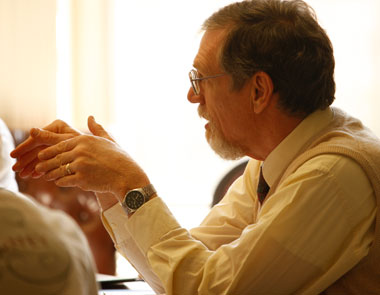 It is true that the Vision's birth narrative, when compared to those in GMatthew and GLuke, looks primitive. But there are good grounds for thinking that the original Vision did not have a birth narrative at all. A later substitution is still a later substitution even if it is a birth narrative that is inserted and its character is primitive compared to subsequent nativity stories. Robert G. Hall sensed this and in a footnote wrote:
Could the virgin birth story have been added after the composition of the Ascension of Isaiah? Even if we conclude that this virgin birth story was added later, the pattern of repetition in the Vision probably implies that the omission of 11:1-22 in L2 and Slav is secondary. The foreshadowing expects some emphasis on the Beloved assuming human form as well as some story of crucifixion. Could the story original to the text have offended both the scribe behind L2 Slav and the scribe behind the rest of the witnesses? The scribe behind the Ethiopic would then have inserted the virgin birth story and the scribe behind L2 Slav would have omitted the whole account. The virgin birth story is, however, very old and perhaps it is best not to speculate. ("Isaiah's Ascent to See the Beloved: An Ancient Jewish Source for the Ascension of Isaiah?," Journal of Biblical Literature, 113/3, 1994, n. 56, p. 483, my bolding)
I agree that both the E and L2/S readings at 11:2 could be replacement passages, but I think Hall's advice not to speculate should be disregarded, for it is his very observations about the Vision that provide some good reasons to suspect that 11:2-22 did not belong to the original text. It is he who points out that foreshadowing and repetition characterize the Vision—except when it comes to the birth story! Continue reading "A Simonian Origin for Christianity, Part 8: The Source of Simon/Paul's Gospel (continued)"