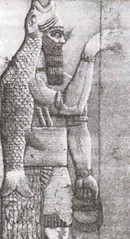 In my recent post I referred to an old view that John the Baptist may possibly in some way have originated from the Babylonian water god, Ea. Another scholar who also saw a link with this god was Robert Eisler, but he took the contrary view: that a historical John the Baptist was in some way eventually identified with Ea. He suggests the possibility in his 1920 book, Orpheus — The Fisher: Comparative Studies in Orphic and Early Christian Cult Symbolism. Eisler's views have always been controversial and I find many of them imaginative discussion-starters rather than convincing conclusions. So it is in that context that I share here what he says about the possibility of John the Baptist's link with the pagan god.
Eisler is dogmatic in his insistence that John the Baptist was a historical person and flatly denounces the contrary claim by two early Christ Myth proponents, Dupuis and Drews:
It is more than a century since Charles Francois Dupuis, the famous Parisian lawyer and professor of rhetoric , first declared that John the Baptist was a purely mythical personage and his name the equivalent of that of the Babylonian fish-clad divinity Iannes or Oannes. Quite recently the same theory has been repeated in Prof. Arthur Drews' much-discussed book on the so-called 'Christ-myth,' . . . .
If then I venture to support that part of Dupuis' assertion which refers to a possible connection between the two names — as I have already done before Drews took up the question — I feel confident that no reader of the preceding chapters will think that I am thereby encouraging this renewed attempt to deny the historicity of a Pre-Christian teacher, whose peculiar activity is attested beyond any reasonable doubt by the authority of Josephus. (p. 151)
To that final sentence Eisler attaches an even more strident, even intellectual-bullying, footnote:
To suspect the authenticity of this passage is absolutely nonsensical.
So don't be mistaken. Eisler will not allow anyone to suspect that what he has to say about the links between John the Baptist and the Babylonian god means he is going soft on the historicity of the baptizer.
But, here is the but.
On the other hand, I am fairly convinced that the rapid propagation of John's ideas, and especially the spreading of his fame into the low-lands of South Babylonia, has indeed a good deal to do with the striking resemblance of his traditional name to that of the primeval Babylonian fish- and fisher-god, the teacher and lord of all wisdom. 

Readers will remember that the Mandaeans (= Gnostics) or Subbas (=Baptists), who still exist in the marshes round Bussorah, have preserved such rich traditions about 'Jahja Johanna' that Ignatius à Jesu, the first Christian missionary who worked among them, believed he had rediscovered in them the last remains of the 'Disciples of John' who are repeatedly mentioned in the Gospels. (p. 152)
Of course the Mandeans have not fared so well since their liberation in 2003 and the marshes of southern Iraq are probably no longer the home of the world's major concentration of their total numbers.
It's an interesting thought. A Jewish baptizer named John attracting a larger than usual following in a region where his name and rite somehow reminded the inhabitants of their water or fish god. One might even think the thought a bit strange.
I was curious to know what we know about this god and here is what I found. I would welcome any more thorough information. This is from FRAGMENTS OF CHALDÆAN HISTORY, BEROSSUS: FROM ALEXANDER POLYHISTOR  (from Ancient Fragments edited by I.P. Cory, 1832)
At Babylon there was (in these times) a great resort of people of various nations, who inhabited Chaldæa, and lived in a lawless manner like the beasts of the field. In the first year there appeared, from that part of the Erythræan sea which borders upon Babylonia, an animal destitute of reason, by name Oannes, whose whole body (according to the account of Apollodorus) was that of a fish; that under the fish's head he had another head, with feet also below, similar to those of a man, subjoined to the fish's tail. His voice too, and language, was articulate and human; and a representation of him is preserved even to this day.

This Being was accustomed to pass the day among men; but took no food at that season; and he gave them an insight into letters and sciences, and arts of every kind. He taught them to construct cities, to found temples, to compile laws, and explained to them the principles of geometrical knowledge. He made them distinguish the seeds of the earth, and shewed them how to collect the fruits; in short, he instructed them in every thing which could tend to soften manners and humanize their lives. From that time, nothing material has been added by way of improvement to his instructions. And when the sun had set, this Being Oannes, retired again into the sea, and passed the night in the deep; for he was amphibious. After this there appeared other animals like Oannes, of which Berossus proposes to give an account when he comes to the history of the kings. Moreover Oannes wrote concerning the generation of mankind; and of their civil polity; and the following is the purport of what he said: . . . . 
One could tease out slivers of detail here and try to relate them to our Synoptic Baptist. I think there are too many unknowns to say anything secure, though I think Rene Salm has delved into more sources in more depth does have a little more to offer.
But one thought does cross my mind and that is the special attention we find in the Gospel of Luke to the unusual bestowal of the name of John on this Christ herald. Luke 1:57-66 pushes to the foreground the fact that there is something quite strange, something unnatural within the context of normative Jewish practices, about the herald of Jesus being named John (Greek Ioannes). Is the story intended to rebut some other, less welcome view of the origin of this person's name?
The following two tabs change content below.
Neil Godfrey
Neil is the author of this post. To read more about Neil, see our
About page.
Latest posts by Neil Godfrey (see all)
---
If you enjoyed this post, please consider donating to Vridar. Thanks!
---