It is nice to see Philip R. Davies (Memories of Ancient Israel) hit this one head on, page 134:
. . . verdicts of reliability or unreliability are morally equal.
Those in favor of the reliability approach sometimes imply that belief and trust are virtuous, while doubt and mistrust are bad.
Analogies . . .

. . . it is a legal principle in most countries that an accused person is deemed innocent until or unless proven guilty. However, "historically unreliable" should not be equated with "guilty" unless one assumes that the biblical narratives are legally obliged to be historically accurate.
. . . in law a single uncorroborated testimony may be accepted (if on oath), though ironically enough biblical and Jewish law requires two witnesses, implying a single witness should not be trusted.
. . . in investigative . . .  journalism . . . checking sources for corroboration is a matter of procedure, and doubting what one is being old (especially by politicians and public relations staff) is a standard attitude.
. . . the sensationalist press is generally unconcerned about these things and likes good stories.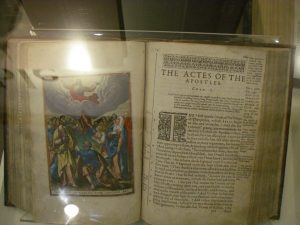 First printing of Bible in English for Catholics. 1582, Rheims. Translator, Gregory Martin. On display at Arts House, Singapore, 2009.
The following two tabs change content below.
Neil Godfrey
Neil is the author of this post. To read more about Neil, see our
About page.
Latest posts by Neil Godfrey (see all)
---
If you enjoyed this post, please consider donating to Vridar. Thanks!
---