In my Father's house are many mansions . . . . I go to prepare a place for you. And if I go and prepare a place for you, I will come again and receive you to myself, that where I am, there you may be also. (John 14:2-3)
There is nothing like this statement in the synoptic gospels. Many interpret this passage in John to mean that Jesus is going to prepare a room in a heavenly palace for each believer who will eventually get there. But the author of the gospel appears to explain what he means here just a few verses later, and it has nothing to do with a believer going to heaven and finding a nice apartment room there with their name on the door. Rather, the room is the body of the individual believer, and that Jesus and the Father will descend to earth to make their mystical union with each believer.
The larger house or mansion that contains all of these many rooms or abodes or homes is the "church" or wider community of the Johannine Christians.
This is another snippet from John Ashton's Understanding the Fourth Gospel, 2nd ed. He begins with Hoskyns suggesting that the starting point for interpreting this verse is the fulfilment of a prophecy found in both canonical and noncanonical Jewish writings:
Let them make me a sanctuary, that I may dwell in their midst. (Exodus 25:8; c.f. Exod. 29:45; Lev. 26:11-12)
And I will set my sanctuary in their midst for evermore. My tabernacle also shall be with them . . . (Ezekiel 37:26-27)
For behold! I am coming and I will dwell in your midst, says the Lord. (Zechariah 2:10)
And I will build my sanctuary in their midst, and I will dwell with them and be their God, and they shall be my people . . . (Jubilees 1:17)
This suggestion is plausible and attractive. If Hoskyns is right, then the μοναι (AV "mansions") of 14:2, individual rooms or apartments in the house of God, are reinterpreted in 14:23 as places on earth, localized in the community, where not only Jesus but God himself, coming in a cultic or mystical manner, can find a welcome. (Understanding, p.441)
Judas (not Iscariot) said to him, "Lord, how is it that you will manifest yourself to us, and not to the world?" Jesus answered and said to him, "If anyone loves me, he will keep my word; and my Father will love him, and we will come to him and make our home with him. (John 14:22-23)
Another scholar (David Aune) is cited by Ashton as suggesting that the term for "house" in 14:2 and 8:35 was probably used by the Johannine community of Christians to refer to themselves. For this reason, Aune also interprets "mansions" as a reference to each individual believer in whom dwells the spirit of the Father and the Son.
That is, according to the Gospel of John, the "coming of Jesus Christ" is not a "parousia" at a climactic "end of the age" event, nor is it the resurrection, nor is it the sending of the Holy Spirit. Rather,
[i]t presages a mystical union of awesome intimacy, one that indicates the profoundly contemplative character of the Johannine community.
Ashton is aware that many Protestant writers don't like to use words like "mysticism", but that the above interpretation of Jesus and the Father making their home with believers in their "rooms" (bodies, minds) is a much more coherent and obvious explanation than the "going to heaven" idea preferred by many believers today.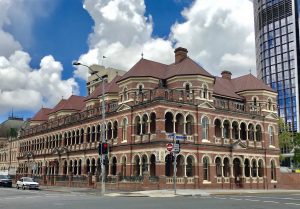 The following two tabs change content below.
Neil Godfrey
Neil is the author of this post. To read more about Neil, see our
About page.
Latest posts by Neil Godfrey (see all)
---
If you enjoyed this post, please consider donating to Vridar. Thanks!
---