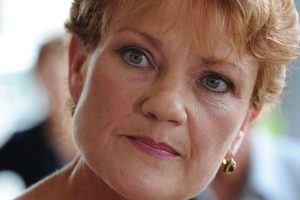 Australia's Pauline Hanson is something like America's Sarah Palin and Donald Trump. She brought Australia into notoriety among her Asian neighbours twenty years ago with her maiden speech in Parliament declaring that Australia was in danger of being "swamped" by Asians. She publicly claimed that aboriginal peoples were getting it way too easy (free this and that) while other Australians had to work hard and pay their way. Hanson deplored "political correctness" and accused her critics of trying shut down free speech.
In an early TV interview she looked blankly confused for a moment when asked, "Are you xenophobic?" Her response, "Please explain" made her a laughing stock among many Australians — but not among her enthusiastic supporters.
She has not had an advanced education. Her background was in running a fish-and-chip shop.
The point is that as the more educated and cosmopolitan-minded of the population expressed their disdain for her, and ridiculed her, the stronger her support base grew. Politicians attempted to dismiss her as an embarrassing irrelevance but they were pulled up fast when in Queensland's state elections her party won a full eleven seats in Parliament the very first time they had competed in an election.
When she was jailed for electoral fraud it looked like the end and we could all move on again. But no. The establishment forces that had essentially "plotted" criminal charges against her were exposed for their dishonesty.
And now she's back. She won a Senate seat in the recent election. A single seat doesn't sound much, but the future direction of the present government depends heavily upon winning over "crossbenchers" — that is, independents.
This time she is attacking Islam more than Asians, to "get rid of all the terrorism in our streets". She also continues to attack big business and multinational corporations and what they are doing to the "ordinary workers" in Australia. She is outraged every time another Chinese millionaire buys up another rural property in Australia.
Her supporters regularly congratulate her, saying "You are saying what we are all thinking!"
Ridicule and loathing is easy. It's the natural reaction for many. But it doesn't work. It backfires. Her popularity grows the more she is insulted by representatives and classes whom many Australians believe are out of touch with "reality" and how they really think.
Watching last night's documentary, Pauline Hanson: Please Explain!, an uneasy awareness came over me that the ignorance and prejudices among many of us is not being seriously addressed. National leadership ought ideally to be engaging with Pauline Hanson's supporters in community dialogue. I was once involved with one such community effort. We would advertise public meetings with persons able to discuss from the perspective of direct experience various topical or controversial subjects of community concern. I'd love to see such efforts start up everywhere.
I do hope that Donald Trump's mouth alone will be enough to eventually disillusion and turn away his support base.
But then what's left? What's next for his disillusioned supporters?
But one thing I do fear: ridicule, insult, derision have the potential to only make the Hansons and Trumps ever more popular. People really do need to be listened to.