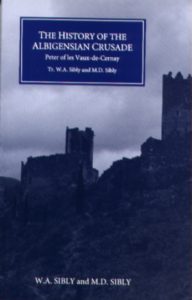 The thirteenth-century Cathars in southern France that I compared with today's political opposition in my previous post embraced the Ascension of Isaiah as one of their core texts. (The reason I was re-reading the Sibly translation of Peter's chronicle of the crusade against them was to try to get a clearer picture of the history of different manuscript lines of the Ascension of Isaiah — those containing and those lacking the "pocket gospel" (11:2-22) of Jesus being born through Mary in Bethlehem and being crucified in Jerusalem.)
Peter begins by describing the beliefs of these Cathars and at one point makes this intriguing note:
[11] Further, in their secret meetings they said that the Christ who was born in the earthly and visible Bethlehem and crucified at Jerusalem was 'evil', and that Mary Magdalene was his concubine – and that she was the woman taken in adultery who is referred to in the Scriptures; the 'good' Christ, they said, neither ate nor drank nor assumed the true flesh and was never in this world, except spiritually in the body of Paul. I have used the term 'the earthly and visible Bethlehem' because the heretics believed there is a different and invisible earth in which – according to some of them – the 'good' Christ was born and crucified. Again, they said that the good God had two wives, Oolla and Ooliba, on whom he begat sons and daughters. There were other heretics who said that there was only one Creator, but that he had two sons, Christ and the Devil; they said moreover that all created beings had once been good, but that everything had been corrupted by the vials referred to in the Book of Revelations.
What was that about Christ being crucified not on earth but in some spiritual counterpart to earth?
Cathars were dualists. They believed that this world was created by Satan. Note, though, that Peter writes that "some" of the Cathars believed Jesus was crucified (and born!) in a "celestial" realm of some kind. Most texts discussing the Cathars that I have come across do not mention that this was a belief of "some" of them. The Cathars did have a religious hierarchy, though — the "perfects" who lived a most ascentic life-style and "the rest" of the followers. It is tempting to speculate that the "some" who believed in a "heavenly" crucifixion were the "perfects". But that is only speculation.
---
Peter. 1998. The History of the Albigensian Crusade: Peter of Les Vaux-De-Cernay's Historia Albigensis. Translated by W. A Sibly and M. D Sibly. Woodbridge: Boydell.
---