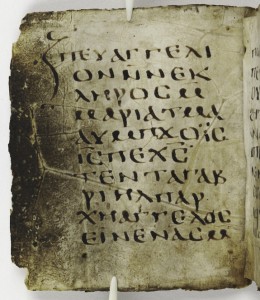 H/T Archeologia Biblica e Storia della Chiesa, blog of Antonio Lombatti, Scoperto un nuovo vangelo in Copto = A New Gospel in Coptic Discovered . . . 

Newfound 'Gospel of the Lots of Mary' Discovered in Ancient Text (article by Owen Jarus in Live Science)
The manuscript is 1500 years old. Reportedly discovered by Anne Marie Luijendijk, a professor of religion at Princeton University.  It's opening lines:
"The Gospel of the lots of Mary, the mother of the Lord Jesus Christ, she to whom Gabriel the Archangel brought the good news. He who will go forward with his whole heart will obtain what he seeks. Only do not be of two minds."
A key word there is "lots". I'll explain.
The book is very small. It can fit easily in the palm of one's hand. It appears to have been used in ways not unlike the way some people read their daily horoscopes:
A person seeking an answer to a question could have sought out the owner of this book, asked a question, and gone through a process that would randomly select one of the 37 oracles to help find a solution to the person's problem. The owner of the book could have acted as a diviner, helping to interpret the written oracles, [Luijendijk] said.
It would apparently be opened up at random (or by spiritual guidance?) for the right "lot" to be found to advise the reader or inquirer.
Sample oracles:  Continue reading "A New Gospel Discovery (For Real, this time!)"