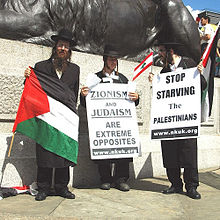 I know of many Jews (Israeli and non-Israeli) who label their fellow Jews who are critical of Zionism and the ethnic cleansing and expansionist policies of successive Israeli governments as self-hating Jews. That charge would seem a bit hard to sustain in this instance.  The irony is twisted even further when one learns that the founders of Zionism (who flourished alongside other racially based nationalisms in their most rabid late nineteenth and early twentieth century phase) were in many cases nonbelievers who nonetheless openly proclaimed that they found their mandate forceful expulsion of Palestinians and ever expanding takeover of their lands in the Bible.
Why post this? Because I am appalled at the outrageous bias in mainstream western media reporting and anything that might graphically help expose its one sidedness is not a bad thing. Imagine the western media addressing the Palestinians in Gaza as the product of documented ethnic cleansing and expulsion policies, represented by a democratically elected government that had offered to recognize Israel's existence along the terms of the Saudi peace plan, and whose citizens and leaders are routinely kidnapped and jailed in a foreign country, and that has been imprisoned by land, sea and air to the point of humanitarian catostrophe. . . .  But that will never be said in the mainstream western media. At least not unless it is callously hidden behind the pseudo-impartiality that insists on giving equal time to state sanctioned official lies and half truths.
The following two tabs change content below.
Neil Godfrey
Neil is the author of this post. To read more about Neil, see our
About page.
Latest posts by Neil Godfrey (see all)
---
If you enjoyed this post, please consider donating to Vridar. Thanks!
---