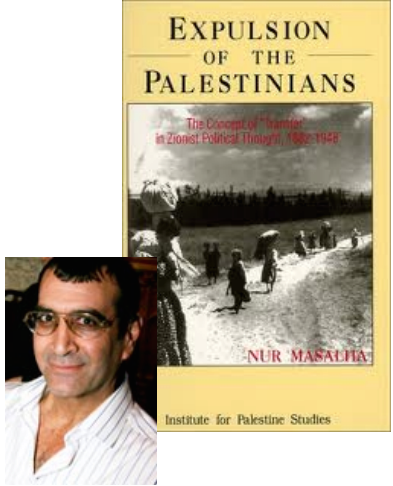 This fourth installment of a series I began in 2010 is long overdue. The previous posts are:
Redemption or Conquest: Zionist Yishuv plans for transfer of Palestinian Arabs in the British Mandate period
My intention is to make a little more widely known a scholarly Palestinian perspective of the history of Israel's efforts to transfer Palestinians from their lands. A good many myths have long circulated in Western countries about the Palestinian situation, such as the supposed "emptiness" of the land at the time the first Jewish immigrants began to arrive, and about the supposed lack of cultural, religious or ethnic ties Palestinian Arabs had for Palestine, or even the assumption that the Palestinians had no distinctive sophisticated cultural, intellectual and settled urban identities at all. Palestinian historian Nur Masalha has researched the personal, diaries, the letters, the meeting minutes, government archives, of the Jewish leaders and organizations responsible for bringing about the Jewish state of Israel and published one facet of his findings in Expulsion of the Palestinians: The Concept of "Transfer" in Zionist Political Thought, 1882-1948, published in 1992 by the Institute for Palestinian Studies.
I am well aware that some regular readers deplore posts like this thinking they are antisemitic propaganda and some may even loathe this blog and stop reading. Yet this is a far more important question than biblical studies. I can only ask that we pause and check whether we might possibly have not yet truly heard the real story but have relied predominantly upon emotive declamations as filtered through one side of the conflict. If these posts go beyond what the primary evidence of the documented record allows then they can rightly be dismissed. I hope to present the documented evidence for the real plans and hopes of prominent figures that resulted in the Palestine we see today. I see no point in having a blog that only repeats what many others are saying far better than I can. The posts I compose are for most part, I hope, invitations to re-evaluate (on the basis of authoritative sources, clear evidence and valid argument) what many of us (myself included) have long taken for granted.
Rather than add many explanatory footnotes I link directly to (mostly) Wikipedia articles that explain certain names and terms that I bring in to the discussion. I spell names the way they are printed in Masalha's book.
The Royal (Peel) Commission
The Peel Commission was set up in May 1936 to investigate the causes of the often violent conflict between Arabs and Jews in Palestine throughout the six month period of a strike by Arabs that year. The following year the Commission published the report that initiated efforts to divide Palestine into Jewish and Arab entities. It also recommended the eventual "transfers" of 225,000 Arabs and 1,250 Jews. This post makes clear the thinking of Jewish leaders in the lead up to this Commission's enquiry and recommendation for population transfers.
Background: British Opposition to Arab Transfers