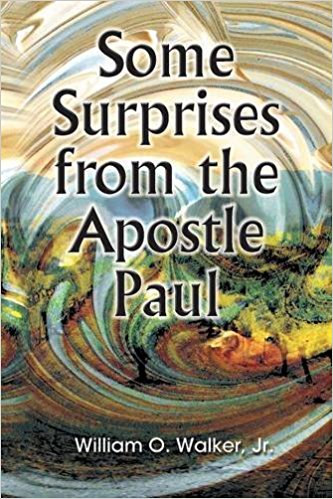 Some Surprises from the Apostle Paul by William O. Walker, Jr. contains an interesting chapter about interpolations. Walker does not agree that most scholars should remain sceptical regarding many proposed interpolations in Paul's letters.
They see no way to identify such interpolations with any certainty, and they tend to regard arguments for interpolation as highly speculative and almost inevitably circular in nature. (Kindle ed, loc ca 1575)
Walker disagrees. He argues that there are "sound a priori grounds for assuming the presence of interpolations — probably many interpolations — in the Pauline letters but also that such interpolations can sometimes be identified with a fair degree of certainty."
Interestingly there is one set of passages that Christ mythicists sometimes rely upon that Walker believes were probably not penned by Paul so maybe that little detail might encourage some of us to open up to the possibility he might be right. 🙂
Walker points to two reasons we should expect to find interpolations in Paul's letters.
Scholars have identified numerous interpolations in other ancient texts — "Homeric, Classical, Hellenistic, Jewish and Christian." We know of interpolations in letters by ancient philosophers to their followers. Even in the Gospel of Mark we have the little disputed interpolation of the final chapter, 16:9-20; and in the Gospel of John there is the episode of the woman taken in adultery found in 7:53 – 8:11. And in the gospels of Matthew and Luke we find that huge chunks have been interpolated into the gospel of Mark. So if we know for a fact that texts were very often expanded with inserted material then we should surely be surprised if Paul's letters proved to be the exception.
Walker's second reason for expecting interpolations throughout Paul's letters involves what we know of their literary history: read more »