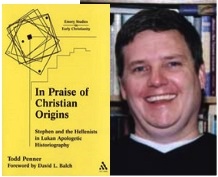 I've been preoccupied with catching up with what certain New Testament scholars have writing about the way ancient Greek and Roman authors wrote history and the relevance this has for how we interpret Acts and the Gospels and what they can tell us about Christian origins. This all started after I began reading and posting on some works from the Acts Seminar. One work has led to another and back again and I think I'm ready to resume.
In an earlier post I quoted something written by Dr Todd Penner that encapsulated a conclusion I have been persuaded to reach not only about one episode in Acts but about the entirety of Acts also about the Gospels:
There is nothing in Acts 7 to suggest that there lies behind them anything but an adept ancient writer, someone extremely well-versed in Jewish traditions and styles of rewriting the biblical story.

The narrative portions of Acts 6:1-8:3 leave one with the same impression.

Could the narrative portions be historically accurate and true? Absolutely. Could they be completely fabricated? Absolutely. Could the truth rest somewhere in between? Absolutely.

The problem, of course, is that it is impossible to prove any of these premises.

Attempts by Hengel and others to intuit their way behind the stories aside, the unit is too tightly knit to allow one to go beyond what is given in the narrative itself. If the dominant view in Acts scholarship is that one can separate out the core historical events from the Lukan redaction, this study argues for the futility of such attempts. (In Praise of Christian Origins, pp. 331-332, my formatting and bolding)
Dr Penner covers a lot of ground, surveying ancient commentaries on what made for good and bad writing of historia/history. I cannot cover any of that in this post. What is particularly significant about his argument, for me, is the assumptions and logic he brings to his reading of Acts. He takes readers back through a time tunnel to show them the origin of modern scholarly assumptions that Acts is fundamentally (beneath all its fantastical tales of miracles and romantic adventures) based on historical sources. If we read "beneath" the text then we will begin to glimpse genuine historical data related to Christian origins.
In so doing he leaves the alert reader with the awareness that the a priori assumption of historicity cannot be justified. At the same time, being able to explain narrative details in terms of literary artifice does not mean that they are not also, at some level, based on genuine historical events. What we are left with, however, is an explanation that does work and that can be justified (the creative literary one), and the question of historicity left hanging. Readers who approach Acts with Christian faith need not be alarmed.
As I read Penner's arguments I wondered if he would be prepared to apply his same pertinent critical questions to the Gospels. As far as I can see there is no reason to confine his approach to Acts.
Not yet, but scholars like Thomas L. Thompson, Neils Peter Lemche, Philip Davies have demonstrated the literary (non-historical) character of much of the Old Testament, and a few have now published similar arguments about Acts. Surely, eventually, the methods applied in these instances will have to catch up one day with our analysis of the Gospels.
As I was reading Penner's In Praise of Christian Origins I was imagining illustrative diagrams that would capture some of the multilayered complexity of the author's literary creativity. I've added the result below. read more »