This is why people like me when you read Carrier's book you think, What the f*ck are you talking about? — Tim O'Neill
Tim spoke those words seconds before leading listeners to infer that he had checked the ancient text that Carrier was misrepresenting, the Ascension of Isaiah [AoI].
Listeners were led to understand that only readers with superior knowledge of the texts would know Carrier was giving them false information.

So to prove that Carrier did not know what he was talking about, that the AoI said the very opposite of what Carrier claimed, Tim quoted a passage from it.
What Tim failed to tell his viewers, and perhaps what Tim himself over time has forgotten, was that he was actually reading the same passage in the AoI that Carrier himself quoted and discussed in his book. One did not have to turn from Carrier's book to check the AoI for oneself — as Tim clearly implies — but one simply had to read the so-called damning passage in Carrier's text itself.
Tim's claim that "only knowledgeable readers would know Carrier had no idea what he was talking about" makes no sense if Tim was alerted to the existence of the passage by Carrier himself. Tim did not draw upon his specialist background knowledge to expose Carrier's "misinformation". He simply read a translation of the very same text Carrier himself was quoting and discussing.

—o0o—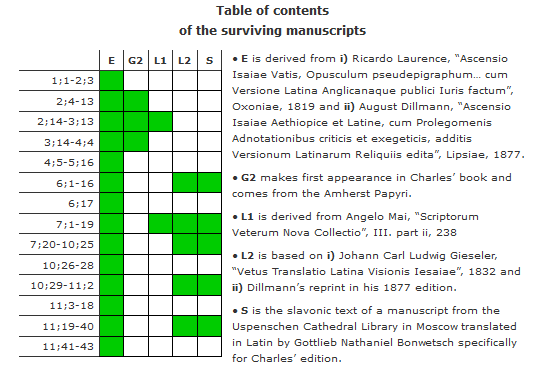 Tim O'Neill informs us that Richard Carrier "tries to get around the lack of evidence" for mythicism by (in part) appealing to the Ascension of Isaiah. He begins giving some explanatory background to this text:
I'm responding to the presentation between 53:00 – 59:00 of the Non Sequitur video.
Tim:
It's a fairly obscure text and we've got it in fairly fragmentary form … an Ethiopian translation … in Slavonic … in Latin… So it's quite hard for us to piece together exactly what it would have said originally, because originally it would have been written in Greek.
What Tim does not make clear to his listeners is that those translations, and even different manuscript versions in the same language, contain very different contents in places. It is not just that we have different translations of a lost Greek version that causes difficulties. The difficulties arise because of the significantly varying content in the different versions. That's an important point that we will see Tim appears not to recognize. Tim continues:
But we can work out that it was probably written maybe in the late first century, possibly early second century. . . . That puts it around the same time the gospels were being written. . . . It's a Christian text and it describes a vision supposedly seen by the prophet Isaiah . . . . But in this text, Isaiah sees a vision, and he sees Jesus descending from the upper heavens, from the seventh heaven, down through the various heavens, and sees him crucified, and then sees him ascend when he rises from the dead back up through the heavens. And the whole point of this text is that no-one knows that it's Jesus because he takes on a different form as he moves through these different heavens, and then it's not until he rises from the dead and that he ascends back up through the heavens that he reveals himself to be the messiah and in some sense divine. And so the whole point of the text is that they thought they killed him but he fooled them and as he ascends back up through the seven heavens to take his place with the throne of God again he demonstrates who he really was.
If Carrier is right, then there's your evidence
Now what Carrier argues is that this is the smoking gun. So he argues that this is a text that as I said did not exist, which is supposedly a text that has Jesus coming from the upper heavens, descending not to earth but to the lower heavens, so to what's called the firmament, and he gets crucified there, not on earth, and then he rises from the dead there and then he ascends back into the heavens. He gets crucified there, by demons, not on earth by human beings.

Now if Carrier is right, then there's your evidence. There's the evidence that there actually was a belief in a Jesus who was purely celestial and not historical; purely heavenly, and died in the heavens, not earthly, and died on earth.
I do find myself wearying of this false dichotomy between celestial and historical. Literature is crammed full of nonhistorical figures who "lived" on earth. I suspect there are many times more earthly human form mythical figures in literature than there are celestial ones.
But there's a problem. And the problem is that actually if you're familiar with the text — this is why people like me when you read Carrier's book you think, 'What the fuck are you talking about?' If you actually read Carrier's book, he says, 'Well, he descended just to the firmament and nowhere else, and he gets crucified on a tree that's not a real tree, it's a kind of celestial version of a tree, and he's never depicted as going to earth.'

The only problem is that if you actually turn to the Ascension of Isaiah you read this:

And I saw one like the son of man (that's Jesus, the messiah) dwelling with men and in the world and they did not recognize him.

It also says that an angel talks to Isaiah saying Jesus … taking on your form; in your form, human form.

So, the text does actually have Jesus coming to earth, it actually does have Jesus dwelling among men.
Tim could not be clearer. Tim is saying that we read one thing in Carrier's book and quite something else if we turn to the Ascension of Isaiah itself. The clear suggestion is that Carrier does not know what the AoI says and one will not know of the "incriminating" passage unless one "went to" the AoI itself. Contrary to this clear inference, Carrier in fact informs readers by quoting and discussing that same passage.
But what the farnarkling is he talking about?