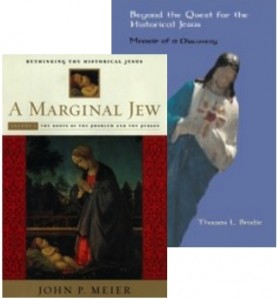 Brodie subtitles this section with:
Sceptics See Only the Carpenter/Woodcutter
The passage under discussion is Mark 6:1-6
He left that place and came to his home town, and his disciples followed him.

On the sabbath he began to teach in the synagogue, and many who heard him were astounded. They said, 'Where did this man get all this? What is this wisdom that has been given to him? What deeds of power are being done by his hands! Is not this the carpenter, the son of Mary and brother of James and Joses and Judas and Simon, and are not his sisters here with us?' And they took offence at him.

Then Jesus said to them, 'Prophets are not without honour, except in their home town, and among their own kin, and in their own house.' And he could do no deed of power there, except that he laid his hands on a few sick people and cured them. And he was amazed at their unbelief.
Brodie argues that the common scholarly interpretations of this passage fail to take into account its literary background. Scholars have seen this passage as historical (not addressed by Brodie, but common among the scholarly works, is the view that this scene is "embarrassing" for early Christians because it shows Jesus being rejected by his family, so therefore must be historical) and Brodie singles out the disparaging dismissal of Jesus as a mere tekton ('carpenter' or 'woodcutter') as seeming to provide solid historical information.
(Of course, other scholars who are more interested in the literary analysis of the Gospels recognize that there is nothing embarrassing at all in this account of how Jesus' family failed to recognize him. It puts Jesus in the wake of all the other great prophets whose greatness was accentuated by their enduring the rejections of their families — Abel, Joseph, Moses, Jephthah, David . . . . Or maybe Jesus was trying to model himself on these prophets so behaved badly to make his family hate him? (I'm kidding.))
Way back in 1998 I posted a query to a scholarly open discussion group soliciting feedback on my sense that Mark's tekton reference had a double meaning, a mundane and a higher theological one. So it is encouraging to read Brodie's view that that's exactly the game Mark was playing with this word. read more »