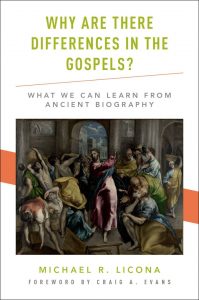 [Edit: When first published, this post credited Michael Bird instead of Michael Licona for this book. I can't explain it, other than a total brain-fart, followed by the injudicious use of mass find-and-replace. My apologies to everyone. –Tim]
We have to dig deep to find something nice to say about Michael R. Licona's new book, Why Are There Differences in the Gospels? Perhaps the best thing I can come up with is that he didn't insert the word apparent to soften the blow. Other apologists will tell us why we needn't worry about "apparent differences" or "seeming contradictions." Not Licona. He acknowledges the differences and says he wants to find out how they got there.
Poor Ancient Historians
In his foreword, Craig Evans notes the variations among the evangelists and asks:
How is this to be explained? Should these discrepancies be regarded as errors? Were the Gospel writers poor historians? Have they told the truth about Jesus?
Such is the strange and mysterious world of NT scholarship. How can we explain these bizarre questions?
According to some of today's most prolific writers in biblical scholarship, the evangelists — the authors of the canonical gospels — were historians and writers of Greco-Roman biographies. They reach these conclusions via embarrassingly obvious cherry-picking, which leaves them with a pile of incongruous evidence, which they feel compelled to explain away. read more »